A sleek black watch for men
Are you not into flashy watches? All those colors and shine, is it too extra? If that's about you, then check out this total black watch. There's never too much black.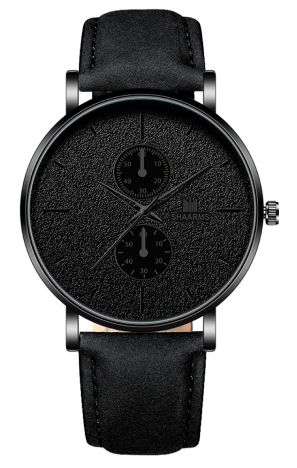 The most versatile color
Enjoy the immaculate versatility of it
Accessorized to astonish
The blackness of the watch is luxurious. Why? Because it fits ANY outfit. Sporty, casual, fancy, official, whatever happens – you look awesome.
Made from the durable materials
Faux leather is stain and UV-resistant and does not tear quickly. The zinc alloy casing is corrosion-resistant. The fun will last for a long time!
It's not afraid of the splashes
Thanks to the 3 bar water resistance, the watch can withstand water splashes (like washing hands or rain), but it's not suitable for swimming.
Product specifications
Strap length: 9.05'' Strap width: 0.86''
Dial diameter: 1.57'' Case thickness: 0.31''
Certifications: CE & RoHS
Anyone can find the perfect adjustment.
Black is not sad. It's poetic!
No matter if you like black, or you just need an accessory that'll pair with anything, this watch is a perfect find. You'll never think about whether it goes with the colors you chose: it certainly WILL!