Classical beauty
Simple and sophisticated, how can those adjectives describe one and the same object? Easily. This watch is a perfect example. Thoughtful engineering combined with a sleek design created this amazing timepiece.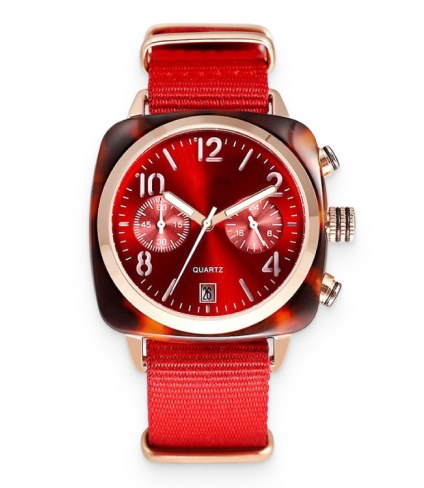 Elevate your look with the timeless motifs
No matter who you are, this timepiece will fit you well
Fascinating troupe of colors
Golden accents, amber-like framing, red strap, and red dial dance together, creating a tandem of colors that looks good on any wrist.
Made from durable materials
The strap is made from durable nylon (which you can easily wash). A plastic case is hard to break and is not demanding. Simple!
3 bar water resistance
It means that the watch can withstand splashes and minor water impacts. But showering or bathing with it will be damaging for the watch.
Product specifications
Strap length: 8.66'' Strap width: 0.78''
Dial diameter: 1.02'' Case thickness: 0.31''
Certifications: CE & RoHS
Find the best adjustment easily!
A perfect match
Of colors and shapes. Also, it's a perfect match for pretty much any look: pair it as you would pair any other red accessory, and you'll look divine. A convenient, comfortable, and sleek addition to your everyday life and looks.