Buoyant practicality
This watch is an amazing timepiece. It's feminine, lively, petite, and simple – what else does a girl need? Elevate your look with some fun, or delight a beloved girl with it.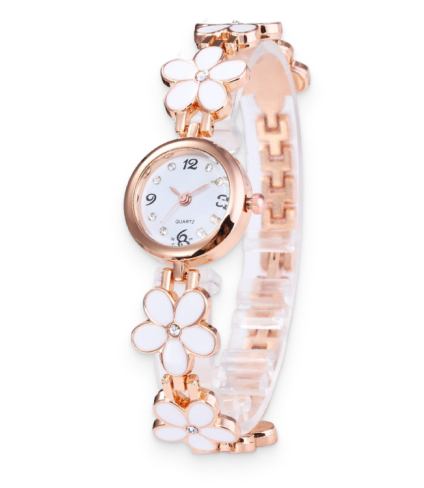 Charm, beauty, innocence
A must-have for any woman
Sophisticated and fun look
White flowers quite literally flow on your wrist, adding witty accents to the look. The stones encrusted into the bracelet shine mesmerizingly!
3 bar water resistance
It makes the watch withstand splashes (if you get under the rain or wash your hands). But it's not suitable for swimming or showering.
Made from high-quality zinc alloy
This alloy is exceptionally long-lasting and corrosion-resistant. Your happiness and elegance will last a long time!
Product specifications
Strap length: 8.66'' Strap width: 0.70''
Dial diameter: 0.94'' Case thickness: 0.39''
Certifications: CE & RoHS
Adjust it how you like!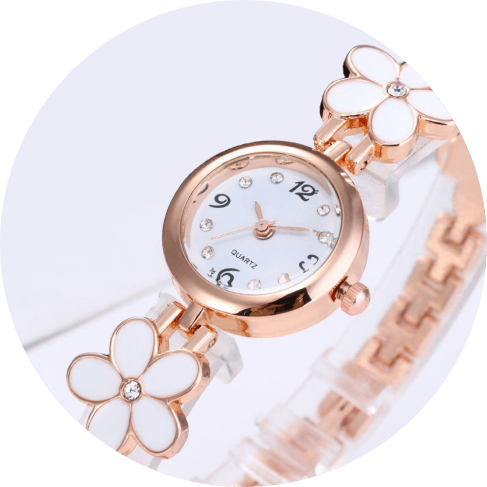 A couth and cute accessory
Emphasize your inner lady, give your image a fun kick, and enjoy the hypnotizing view on your wrist at any time. Every day will be a bit brighter if you wear this. The watch is radiating positivity and beauty.